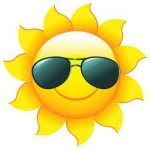 I hope that you are enjoying this beautiful summer. Personally, I cannot believe how quickly summertime has flown by.
In the time before school begins I will be wrapping up household projects, enjoying my swimming pool, and playing with my puppy, Thor!  In between these last summer activities, I will be busy preparing our classroom for a fantastic year.
I've put together a Wish List of items we use in our classroom.  You may bring them to our Open House or have your child bring them on the first day of school. Any donation is greatly appreciated.
Georgetown's Open House on Wednesday,  August 21st @ 6:30!  I am looking forward to seeing all of you there.
Enjoy the rest of your summer!
I am VERY excited to meet all of you and begin our school year together!
 ~ Mrs. Burdis