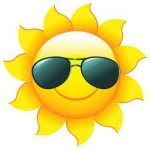 I hope that you are enjoying this beautiful summer. Personally, I cannot believe how quickly summertime has flown by.
In the time before school begins I will be wrapping up household projects, enjoying my swimming pool, and celebrating family birthdays. In between these last planned summer activities, I will be busy preparing our classroom for a fantastic year.
I am VERY excited to meet all of you and begin our school year together! 
 ~ Mrs. Burdis
Parents,
Please take a few minutes to fill out the Parent Survey. The information in the survey assists me in providing the BEST start in your child's 5th- grade school year. 
Next, I have entered email addresses I currently have on file to the blog subscription. If you missed confirming the classroom blog subscription sent, please check your email to confirm subscription. Otherwise, please subscribe to our class blog by entering your email address in the subscription box on the top right side of the classroom blog. Thank you so much to all of you who have already subscribed.  
If you have last minute school supplies to purchase, here is a link to help you. School Supply List
Also,  I've put together a Wish List of items we use in our classroom. Any donation is greatly appreciated.  
Finally, don't forget about Georgetown's Open House on Tuesday, August 30th from 6:30-7:30 PM.  I am looking forward to seeing all of you there.
Enjoy the rest of your summer!