My name is Kym Burdis and I teach fifth grade at Georgetown Elementary in Hudsonville, Michigan.  Twenty-one years ago my family moved to Hudsonville and we have been proud to call it our hometown ever since.
I began working for Hudsonville in 1997 as an instructional aide.  Three years later I obtained my first teaching job as a 3rd-grade teacher at South Elementary.  I taught third grade for six years before moving to Georgetown in 2006.  I have been incredibly fortunate to work in a school system that values its students, staff, and community.
Georgetown has such a warm and supportive environment that consistently puts the emotional and academic success of all of its students first, always!  It's an amazing school to walk into each day.  I LOVE MY JOB!
It's my goal as a fifth-grade teacher to provide a classroom environment that allows children to take risks!   I will consistently emphasize the importance of community, and respecting each other's individuality and abilities.  In this safe environment, each student will thrive to do their individual academic and social best! 
How do WE do this?
We have fun!  We work hard!  We raise the bar of excellence!  We laugh!  We lead!  We collaborate!  We model for others!  We laugh some more!  We tell stories!  We share!  We work in groups!  We work on computers!  We write!  We write some more!  We read, read, read!  We laugh some more!  We communicate!  We discuss!  We challenge each other!  We support each other!  We analyze and synthesize!  We study!  We learn!  We question!  We celebrate!  WE….. ARE FIFTH GRADE!
My husband, Tim, and I have been married for 32 years and have three wonderful children.  Kyle works as an electrician, Chris is a Doctor of Physical Therapy, and Katie is a kindergarten teacher.  Our family loves to spend time together!  With everyone's hectic schedules we appreciate those simple moments when we can watch a movie together or just share a meal.  Some of our favorite memories are simply at the dinner table sharing stories and creating new memories.
I have many varied interests, but technology has to be one of the top!  I'm always fiddling around on my computer trying to learn something new to quench my curiosity to learn.  Looking for fun and creative ways to use technology in the classroom effectively is something I am always trying to incorporate into my teaching.  I must admit that any tool involving technology interests and intrigues me!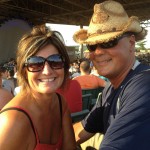 What do I like to do for fun?  For foot stomping, hand clapping big smiles fun?  Well, my husband and I enjoy listening to country music, and going to country concerts!