Our class has earned another 10 Outstanding Rewards so it's time to celebrate!
To loop in March is Reading month we will be doing quiet reading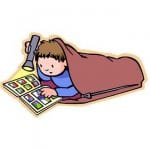 around the room on Thursday morning. To make it special the kids may bring in pillows, a favorite stuffed animal, blankets and/or sleeping bags to stretch out an be comfortable.
They also may bring in reading material from home that they want to read or share read.
To add to the fun, they may bring in extra HEALTHY snacks to munch on and ONE yummy treat. Please don't send in too many treats (candy, cookies, brownies, etc.) one will be plenty.
Then in the afternoon we will be watching the film Indian in the Cupboard. We will comparing & contrasting the film to the book that we will finish up this week. I have enjoyed reading this classic book to the class. They seem to be very engaged in the story and the classic characters.