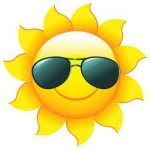 Miscellaneous-
The Walkathon is this week and is our primary fundraiser for the year!! The goal is for each student to raise $30.00 to support Georgetown's PTC. Our PTC supports many different extra school activities for your children. Come join the SUPERHERO fun!

9:45 – 10:30   Kindergarten, 1-3rd Grade
10:45 – 11:30   4th and 5th Grades

Picture day is on Thursday, September 21st

Reading logs are due on Mondays, weekly goal 100 minutes

Michigan Landforms & Michigan's Bodies of Water social studies quiz on Tuesday.

Spelling Pretest words come home on Mondays, spelling tests are on Friday's

Keep having your child practice those multiplication facts of 5's for

five

minutes each day! Once those are mastered focus on 2's and review 5's. Daily practice will help in mastering those facts and build their multiplication fact fluency that is so important for all future mathematical learning.